Posted by Samuel Kavanagh on 23rd Sep 2021
Paper lanterns are a fabulous way to instantly give your marquee a splash of colour.Whether you are going for classically stylish pure white or wanting to add accent colours, round paper hanging lanterns can bring all your theme elements together and create a design that will wow your guests.
Using Clear Lantern Hanging Line you can create the impression the lanterns are floating over your reception venue.
The line can be tied to individual lanterns or used to create grids to hang the lanterns from. Alternatively tie your lanterns directly to poles, trees, beams or marquee posts to create a magical decor for your guests to admire.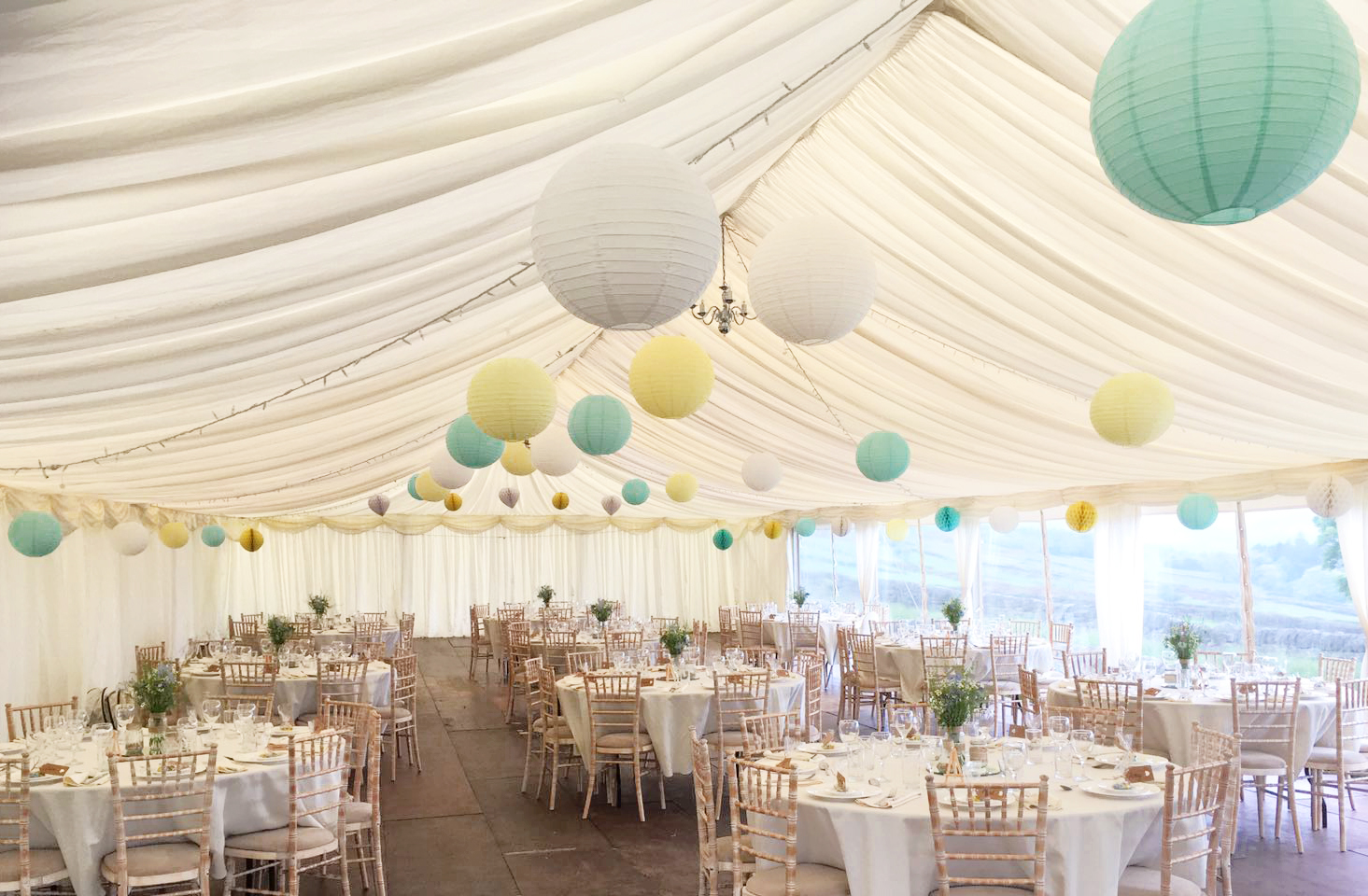 In the picture (right) about 40 lanterns in sizes 16", 20" and 24" in White, Lemon and Robin Egg create a focus around the centre of the marquee. The largest lanterns are positioned down middle of the marquee with the smaller lanterns drifting out romantically to the edges.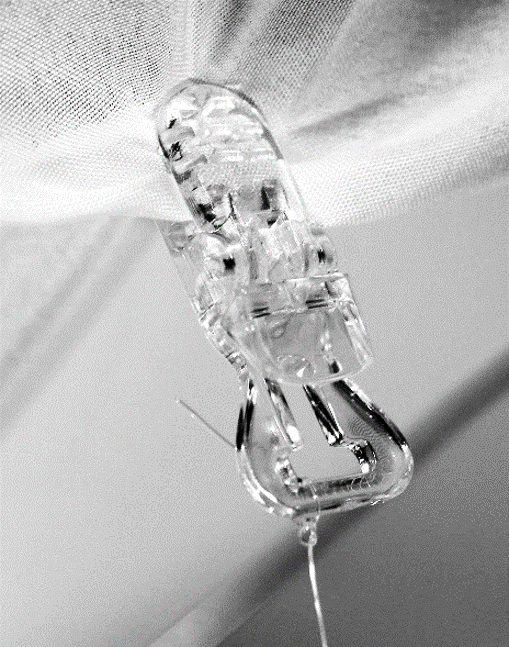 Use Clear Hanging Lantern Clips to hang the lanterns wherever you choose
This is one trick of the trade that will save you time and allow you to hang your lanterns anywhere in your marquee without creating a grid or using poles and beams.
Tie Clear Lantern Hanging Line to the Clear Hanging Lantern Clips and to the lantern; and use the clip to attach to the lining of your marquee. It leaves no marks and, because it's made from clear plastic, it disappears into the light. It will leave your guests wondering how you've suspended your lanterns with nothing but air!
And because you can clip them wherever you choose, there is no restriction to the design you want to create. They can hold any size lantern from our 8" right up to the giant 24" globes. And if you want to move a lanterns' position during the hanging phase, it will take just seconds!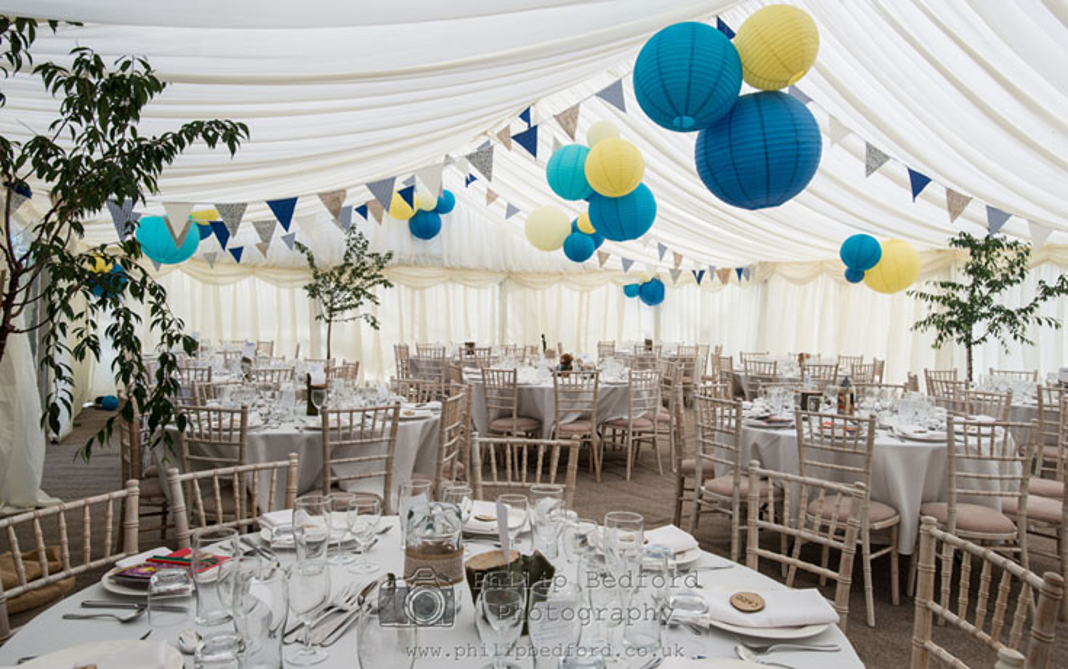 Cluster together in a myriad of colours for bold accent colours
Grouping lanterns together in clusters of complementary colours, as shown above, gives a unique and modern design. Use different sized lanterns to add interest.
To make the set up quick and simple, group them together with Clear Lantern Hanging Line before tying them to the marquee poles or beams. Dot them randomly around your marquee or hang them over your tables using our Clear Hanging Lantern Clips.
Blend Turquoise, Egyptian Blue, Yellow and Lemon lanterns to evoke images of sunflowers and summer skies and create a real contrast against the pure white silk of the marquee.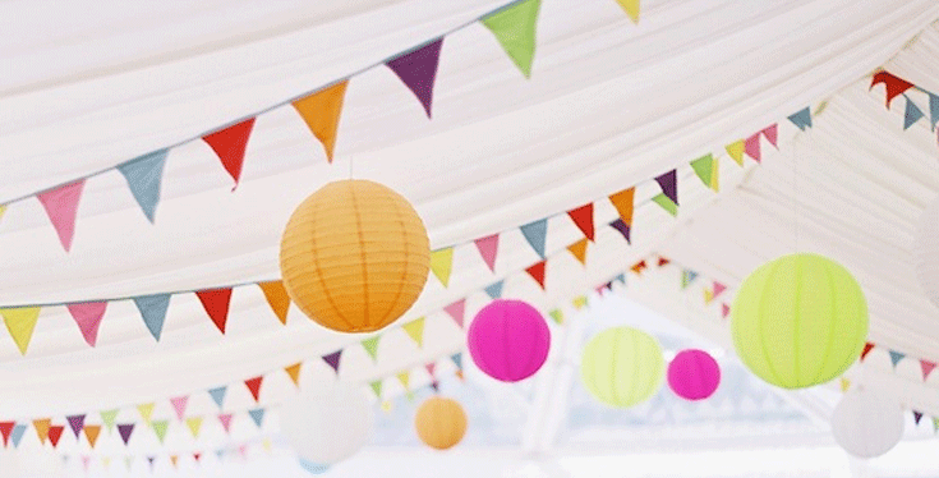 With so many cotton bunting designs and lantern colours to choose from you can recreate this design to match your unique theme.
Line the route to your marquee with outdoor nylon hanging lanterns. They can be lit with individual LED Lantern Lights or strung on lengths of festoon lights to give a romantic ambience to your outside spaces.
Guests will be wowed by these floating orbs of light guiding them to your reception venue. Classic, simple and uber stylish the pure White Nylon Lanterns have a natural sheen which adds texture and opulence to your décor.